The Six Parishes of the Saxon Shore Benefice
"The United Benefice of Hunstanton St. Mary with Ringstead Parva St. Andrew,
Holme-next-the-Sea St. Mary the Virgin and Thornham All Saints,
with Brancaster St. Mary the Virgin, with Burnham Deepdale St. Mary
and Titchwell St. Mary, with Choseley",
which is the official name of this Benefice, is rather a mouthful and so the name
"The Saxon Shore Benefice"
was chosen for these churches on the north west Norfolk coast.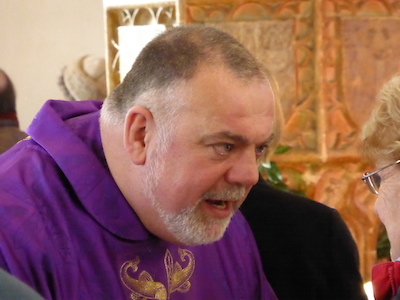 In his fifth year as Rector of the Saxon Shore Benefice, the Rev'd. Christopher Wood has now moved on to take up the challenge of a different type of parochial ministry within this Diocese, in the City of Norwich.

From January 6th, 2014 he relinquishes his position here and becomes Rector of the parish of St. John Timberhill with St. Julian's. This involves Sunday morning worship at St. John's as well as Services each day at both churches in Norwich city centre.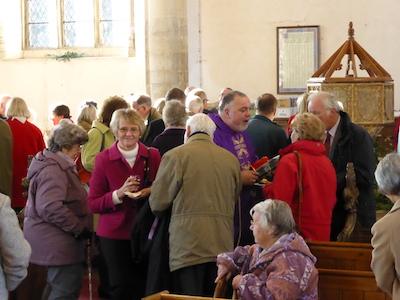 The church of St. Julian is unique in that it houses the small cell, built out of the original foundations, of the Medieval anchoress and mystic, Julian of Norwich. Her book, 'The Revelations of Divine Love', is known world wide and it is the earliest published work by a woman in the English language. Visitors come from many countries to visit and pray in the small ancient and very simple space in which she lived out her vocation.

The Rector has the task of maintaining and developing this interest while ensuring that the silent and prayerful shrine remains a thin place where the presence of God may be encountered in a special way.

The parish covers a large area of the city of Norwich, including the rail station, the Carrow Road football stadium, the largest nightclub in Europe, Norwich Castle and the shopping complex below ground and many other points of interest. St. John's can be found opposite the John Lewis Store in Norwich.

The Saxon Shore Benefice is now in a period of interregnum while a new priest is sought to take up ministry here.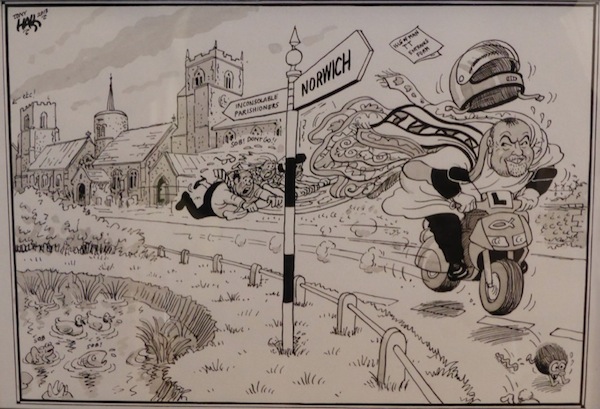 Cartoon by Tony Hall at www.cartoonstock.com
(Shown by kind permission of the owner, Rev'd. Christopher Wood)
Our Curate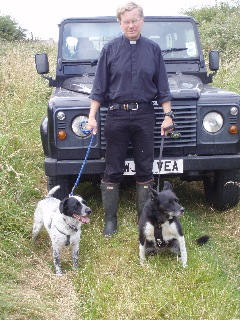 The Revd. James Monro is curate of the parishes of the Saxon Shore Benefice. He took up his post in July 2012 when he returned to Norfolk from Street in Somerset.
Contact details:
Revd. James Monro
Manor Cottage,
Church Place,
Docking
PE31 8LW

Tel: 01485 518342
Email: curate@saxonshorebenefice.co.uk
"Ordination at Norwich Cathedral"
Information and photo by kind permission of the Diocese of Norwich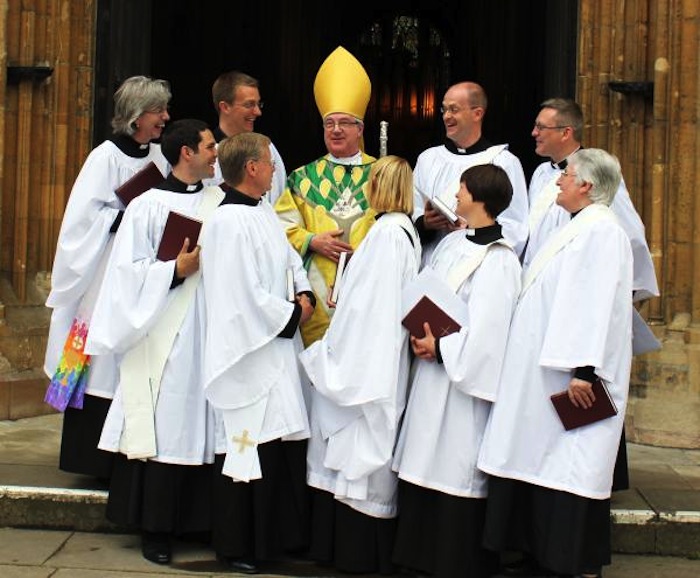 WITH THE BISHOP: The Rev. James Monro (front row left - with the cross showing) after his ordination
with the Bishop of Norwich at the Petertide ordinations which took place on Saturday 30 June 2012